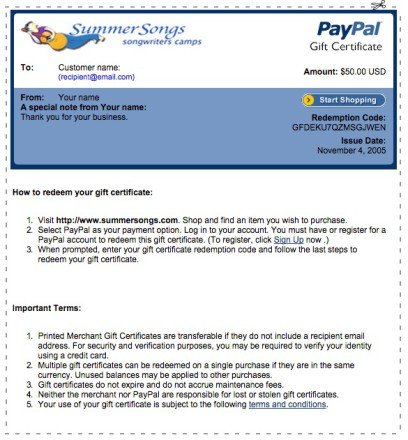 SummerSongs Gift Certificates are available in amounts ranging from $5 to $1,000. They can be redeemed a little at a time or all at once, so you can feel confident giving this wonderful gift.
What are you giving, actually? We're glad you asked!
You can give the gift of music, musical encouragement, fun, inspiration and joy – Summersongs Songwriting Camps are the best place to nurture your creative spark, learn songwriting, collaboration and musical performance (on many different instruments, from published and touring singer-songwriter professionals) and apply your new knowledge instantly in evening concerts, song circles and spontaneous ensembles. Never played in a band? You can form a duo or group, arrange harmonies, rehearse and perform at Summersongs! And no other camp offers the same warm and nurturing environment.
Today is a great day to start someone you love on the path they desire. Click the Buy Gift Certificate button below to get started. You'll then choose your gift amount, enter all of the requested information and print the certificate (to place in a card, or with a bow), or you can select a date (within one month) to email your gift directly to your recipient. When they shop at summersongs.com (especially to register for camp) they can apply your gift to their purchase amount.
Click the picture below to see what the Gift Certificate order screen looks like.
Notes: 
The Gift Certificate and its unused balance never expire!
You do not need a PayPal account to purchase our Gift Certificates, just a current credit card. Your recipient will need to have or set up a free PayPal account to redeem your gift, and they will need to choose PayPal as the payment method at checkout. Setting up a free PayPal account is fast, easy, and secure – learn about it here.