It was August of 2003 when I showed up at songwriting camp for the first time. A good friend had been talking about SummerSongs for months — the classes, the teachers, the community, the beautiful location  — and it sounded just up my alley after months of dealing with a divorce and sitting home alone writing sad songs.
It was one of the best decisions I ever made — the next year, I wrote dozens of new tunes, debuted a new CD and never looked back. And, I've been to SummerSongs (as well as the WinterSongs weekend) many times since, both to the New York location as well as the west coast camp. I literally have hundreds of friends and comrades from around the US and the globe through the  SummerSongs community, all of whom "get" the thrills and chills of writing songs.
There are other wonderful music and songwriting camps around, but SummerSongs is the one I know and love — so I thought I'd ask the goddess/founder of SummerSongs, Penny Nichols, for some insight into this particular retreat as well as the notion of songwriting camp generally.
Penny is no slouch in the singing or songwriting department, mind you: She started out as a coffeehouse folk singer in the '60s and went on to share stages with Jackson Browne, Linda Rondstadt, Jennifer Warnes and many others. She's bunked with George and Patty Harrison over in London, was a Coral Reefer for Jimmy Buffett, and, oh, has a Ph.D in Education from Harvard. Hello!
These days, she's busy running SummerSongs and teaching private Skype vocal lessons from her home in Morro Bay, California. Here's what she had to say about SummerSongs and songwriting camp:
Q: How do you describe SummerSongs? What's your elevator speech?
Penny: SummerSongs  supports and nurtures the songwriter in all of us. It is primarily a camp for adults, though families are welcome to come. We take classes in singing, songwriting, guitar, piano, creative process, and performance. We listen to each other and appreciate each other's creative process.
Q: For those who have never been to a songwriting retreat or adult camp before, what do you think going away for a week or a few days can do for your songwriting that you can't do on your own, at home alone?
Penny: One of the most powerful things about coming to songwriting camp is the fact that you are there with your peers — you're there with others who are interested in you, interested in what you're writing about and they are also sharing their songs.  The mix of listening and sharing is incredibly, deeply inspiring and empowering. You're sharing not only in song circles, in which people sit around and play songs for each other, but also sharing on stage at nightly "coffeehouse" open mics and student shows.
Q: How do you respond to the beginning songwriter who says, "I'll feel too intimidated — I've never played publicly," or the experienced songwriter who says, "I'm already a songwriter — I can't get anything out of it"?
Penny: These are two groups of people who over and over and over again say after camp that "this has changed my life." For the beginning songwriter, the life-changing experience is the sense of empowerment that comes with realizing that even if you've never written a song before, you can find your creative muse and your spirit in a supportive and nurturing environment. This is a very powerful experience for a lot of people.
On the other end of the spectrum, in terms of people who are, let's say, halfway-to-professional songwriters, if they feel they have absolutely nothing to gain by coming to songwriting camp because they already know everything — as well as people who think it's a waste of their time because they want to be stars and want to look for situations where they can make money —  what I can say is you really don't know what you don't know. I wouldn't necessarily tell them that, but they find out for themselves that the real interaction between yourself and your audience comes when you become more interested in your audinece than you are in yourself. So camp gives you a new perspective on what it means to be an artist — that art is not necessarily for you, it's for the world, it's for your community, for the people you love and the people you just met. It's all about how you process your interest in the world.
Q: How did SummerSongs get started?
Penny: Back in the 80s and early 90s I was teaching out of the Puget Sound Guitar Workshop, a big music camp outside of Seattle. The first year, I came home and wrote 30 songs in a month — and I wasn't even a student, I was a teacher. I was so inspired by the experience of an adult music camp. I had never heard of such a thing. but the inspiration just powered me like a jet. I kind of rekicked off my career as a singer-songwriter again.
Then I came home and I realized that this connection and this socialization of songwriters is very important, because we get very isolated. So, along with a few other female songwriters, we started having quarterly weekend get-togethers where we'd talk about songwriting, write songs and eat a lot of strawberries and coffee and chocolate.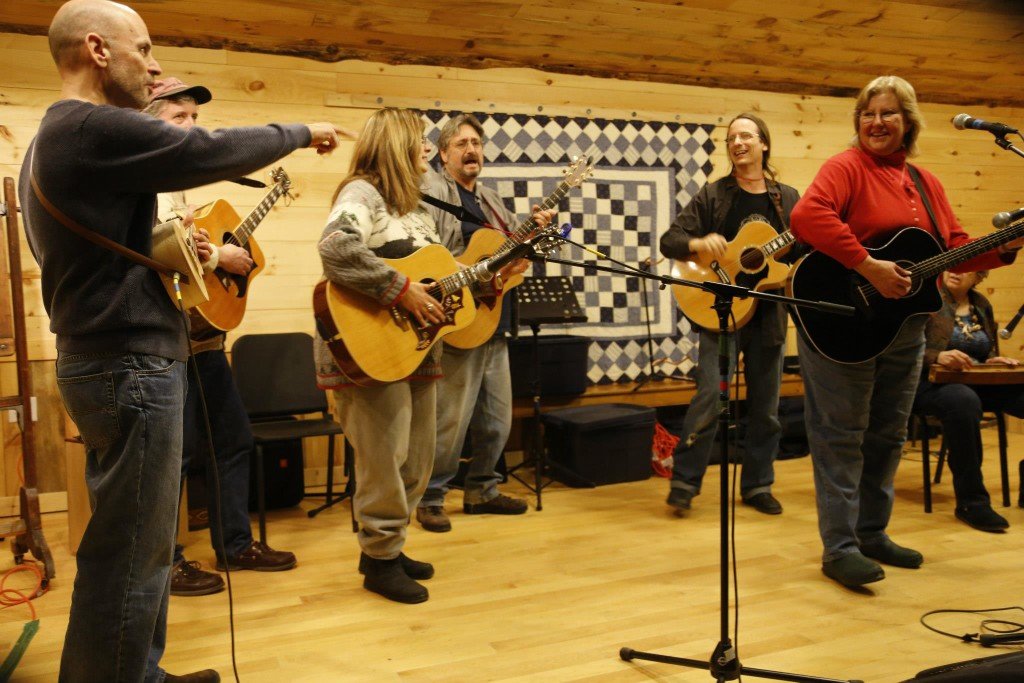 When my husband and I moved back to the Hudson Valley from California  in 1994, for about 5 years I had no contact with anyone in the music business and I got so depressed — I didn't have any music and I wasn't writing any songs. So I thought, how can I create a community for myself? I was  working with Jay Ungar and Molly Mason at the time, and they have a big music camp at Ashokan called Fiddle and Dance, which is all about contradance and traditional music. By 1999 I was working as a coordinator of a business program at the local college and I had an opportunity to put a songwriting class together and I decided to hold the class at Ashokan. There were 27 students and that was the first SummerSongs. After that I formed a nonprofit corporation and started doing it full time. Now there are four camps a year on the east and west coasts and there have been hundreds of songwriters who have attended.
Q: You could do a tremendous amount of namedropping from your earlier life in the music business. How does your experience with SummerSongs compare?
Penny: Actually, it's much more satisfying. The thing about the music business a lot of people don't get is that there really isn't any pot of gold at the end of the rainbow. It's kind of an empty experience and famous people who do it for a living are themselves quite often disconnected from their own experience. It's not just a big party — it's a lot of work.
On the other hand, SummerSongs really is a big party, so it couldn't be more different.
Q: So what would you tell songwriters who might be on the fence about attending a songwriting camp?
Penny: i would say do yourself a favor and take a chance!
Want more SummerSongs content? Sign up for the email newsletter to get songwriting tips, tricks, Q&As and more!